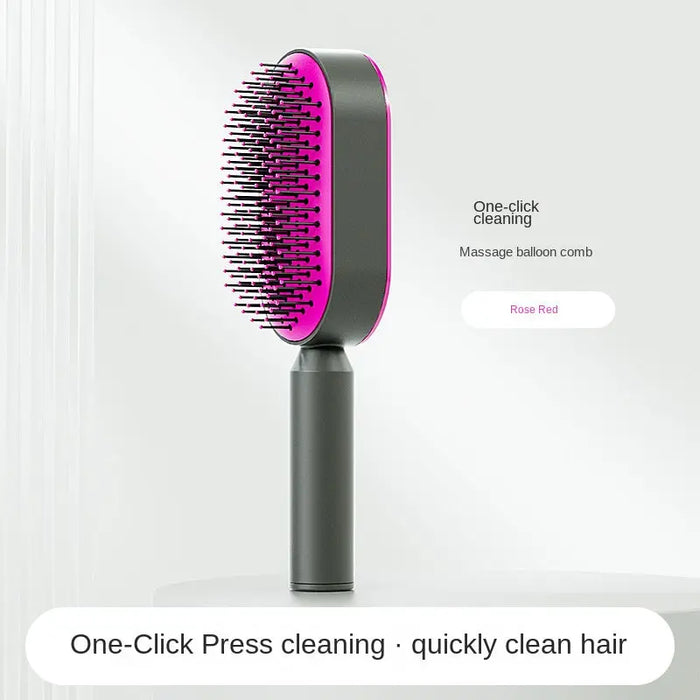 Self Cleaning Anti-Static Massage Hair Comb
Sale
Sale
Original price
$19.98
-
Original price
$19.98
Product information :
Item: Automatic Cleaning Hair Comb
Comb size: 9.7*2.9*1.9 inches
Package size: About 25x7x5
Features:
Self Cleaning Design - The innovative design of the brush lets you to enjoy the fun of combing your hair without worrying about spending much time for cleaning by pushing out the remaining hair on the comb with a click, thus bringing a new experience of combing your hair! Say goodbye to the time wasting comb maintenance, with this fast and easy to clean comb!
3D Air Cushion Base - Unique 3D air cushion base of the brush is made of High Quality, with an oval shape and wide comb teeth, that will not hook or pull when combing or styling wet or dry hair. 
Massage Function - Designed brilliantly to perfectly and safely massage your scalp, remove dead skin cells, relieve stress and relax muscles and stimulate increased blood circulation to reduce hair loss and promote scalp health and hair growth.  
Painless Combing - Soft brush bristles are long enough to gently care for your hair, that when the comb teeth touches the scalp, the air pockets bounce back without any harm.
Anti-Slip Handle - The easy to use ergonomic handle design ensures it will never slip out of your hand with frosted texture  
For All Hair Types - Performs perfectly with straight hair, curly hair, thin hair, thick hair, damaged hair, wigs, and even extensions! Brushing is pain-free on both wet or dry hair with less breakage. Suitable for women, men, and children's long, short, thick, curly, straight, natural, dry or wet hair, to create healthy, shiny hair and helps reduce hair loss, breakage, split ends and reduce frizz with ease. 
Perfect Gift - for special occasions to special people!